Furesa, a custom-made service
A global solution to real needs
PATTERN DESIGN & CONSTRUCTION
Pattern and corebox design and construction, according to Customer's requirements and feasibility study in simulation process.
CORE PRODUCTION
We have 5 automatic machines for hotbox and coldbox for core production.
MOULDING
Two independent moulding lines, one automatic and one manual with their respective cooling lines.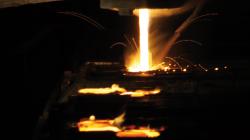 MELTING
A proven metallurgical level is guaranteed thanks to our automatic process of magnesium addition, automatic melting
and inoculation.

HEAT TREATMENTS
Materials are heat treated according to our Customer's requirements being able to deliver ADI ausferritic materials.

SURFACE TREATMENTS
We carry out all kind of surface treatments such as paintings, zinc coatings and chroming according to our Customer's requirements.

MACHINING
We can offer added value to our product with machining processes being able to guarantee tolerances up to 0,015 mm in dimension and roughness up to 0,8 Ra.